Sharing books in the great outdoors is a simple and wonderful way to celebrate Earth Day. While you're out with your young readers, take the opportunity to note and discuss things that need changing or improving to help protect our planet.
This conversation can be helped along by the books you read together. Some good choices to read aloud are: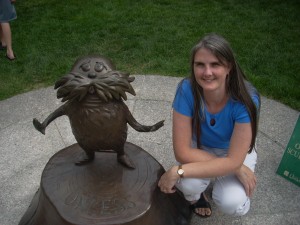 And don't forget The Lorax. I recently wrote a new set of family reading activities for Reading Rockets centered around two classic books: Dr. Seuss' "The Lorax" and "Tell Me, Tree" by Gail Gibbons. Suggestions for this Lorax family reading adventure include journaling up-close observations of trees, creating your own tree identification book, writing or recording your own tree tale, or celebrating Earth Day (and National Poetry Month) with a community "poetree."
Delightful Children's Books also had some excellent suggestions for Earth Day reading with this post:  Celebrate Earth Day with These Children's Books. This Earth Day blog meme from the Sage Butterfly should generate some interesting recommended reading as well.
Myself, I'm interested ideas for reusing and recycling books that are beyond passing on to other readers. Check out this library information desk at Delft University made from recycled books or these beautiful book purses by Rebound Designs. Let me know about other cool uses for books that you've seen.
Happy Earth Day!