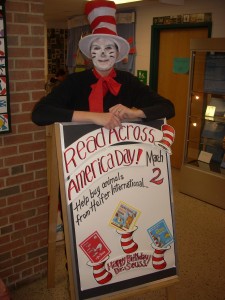 Start planning your Seuss reading party! March 2nd approaches and NEA's annual Read Across America celebration will be here soon. This is a great opportunity for toddlers, teens and everyone in between to celebrate their literacy and language skills, the joys of reading, and their love of Dr. Seuss.
Here's a roundup of some of the great web resources out there to help you have a Seussational March 2nd celebration. I had a hand (quite literally!) in some of them as you'll see.
At Reading Rockets, you can send an e-card to your favorite readers and get them excited about this special day of reading, learn more about how Dr. Seuss has influenced other authors and illustrators, and find good books to put on the menu for March 2nd. You'll also find Family Literacy Bags, free printable resources designed to encourage hands-on fun and learning. The set of reproducible activities are centered around nonfiction titles paired with The Lorax and with Green Eggs and Ham. There are even suggestions for some reading and writing fun using Dr. Seuss and your local newspaper or if you want to study Dr. Seuss in the classroom, try Reading Rockets' Author Study Toolkit.
AdLit.org offers activity ideas and resources for bringing Dr. Seuss into the secondary classroom and celebrating Read Across America with older readers. There are also suggestions for making the day more meaningful with service.
The founder of the feast, the National Education Association, has numerous resources, reproducibles and educator tools. There's also a special website where you can pledge your participation and find out about local events.
You'll find Seuss resources galore from Random House Children's Books when you visit Seussville. Their 2011 Read Across America Activity Booklet has great ideas if you want to celebrate the day in a STEMy way. With the 2012 Activity Booklet, you can get really crafty in celebrating Read Across America with The Lorax and finger knitting!
March 2nd is also the date for the release of the new film The Lorax, a 3d-CG feature created by Universal Pictures and Illumination Entertainment. There are a number of movie related online games and activities, including a writing activity The Lorax Letter Factory. If kids are interested in a different kind of writing (and activism), check out the efforts of Ted Wells' fourth grade class in Massachusetts:  www.change.org/petitions/z-let-the-lorax-speak-for-the-trees
Target is celebrating Read Across America on February 25 with readings of The Lorax in stores from 9 a.m. to 11 a.m. Free goody bags and fun activities for those who come out and read.
Some other activity ideas to consider:
Use "Read Across America" as the theme to develop an extended reading challenge. The March 2nd date can kick off this activity that encourages reading books about our 50 states or earning mileage to move across a map of the U.S. for each book read. You can develop your own mechanism for tracking readers and take advantage of NEA's booklist featuring titles about America.
This is a classic activity I enjoyed during my time working at Reading Is Fundamental—the Book-nic! If it's cold outside, kids will love to see the picnic blanket spread on the living room floor covered with books and delicious treats. Choose a theme around family food and reading preferences—enjoy honey grahams with Pooh in the Hundred Acre Wood, sausages with the Hobbits in the Shire, or Green Eggs and Ham of course—and get your fill of food and reading fun.
Seuss's Oh the Places You'll Go! has been called the perfect send-off for children starting out in the maze of life. Why not create a real maze of challenges and surprises? Share the story and then let the fun begin! Wind your maze through your home, school, or library and fill it with decorations and interesting stopping points along the way. Post grownup or teen readers in the maze to help unscramble the alphabet, get past the Hakken-Kraks, and share time in the Waiting Place. (Older readers of Harry Potter and the Goblet of Fire will enjoy a version of this activity too!) Have rewards and refreshments waiting at the exit, along with plenty of readers to recount the all the a-mazing places kids have been.
Ted Geisel, a.k.a. Dr. Seuss, firmly believed that a rich imagination was one of the most important possessions in life. Don't forget to take yours out for a walk everyday—but let it fly on March 2nd!