I'd long wanted to visit the places Laura Ingalls Wilder lived and wrote about in her Little House series. During the summer, I finally got to travel the Laura Ingalls Wilder Highway.
My traveling companions–son Breece, niece Avery, my mom–and I covered more than 2,500 miles during our pilgrimage. We've been blogging about our Little Journey on the Prairie at Reading Rockets and that's where you should go to read about what three generations of readers saw, learned and loved about each historic site. There's also a bit of advice for those planning to make their own little journey and plenty of ideas for parents and educators who want to help kids connect to the stories and history of Laura Ingalls Wilder and her family.
But here's where I'll offer some additional insights and photos as things strike me or as I learn even more about Laura from the Laura Ingalls Wilder Massive Online Course from Missouri State University.
Here's your first tidbit: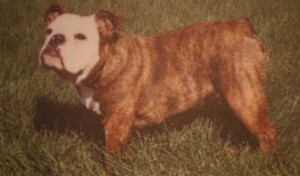 Laura's best friend was a brindle bulldog named Jack. Brindle refers to the color of the dog. Brindle is brownish or tawny with streaks of other color. Did you know that?
And did you know that when Charles Ingalls traded away the ponies, Pet and Patty, Jack was part of the deal? The real Jack didn't travel back from the prairie and never once played along the banks of Plum Creek.
Dear, faithful Jack!