On April 12, beloved author Beverly Cleary turns 100. Much about Beverly Cleary has been written and shared as this milestone approaches, including some thoughts from me:
-for The Reading Connection, Kids at Heart: Celebrating Beverly Cleary at 100
-for Reading Rockets, Bringing Ramona to Life
But I've been celebrating Mrs. Cleary's birthday for the past ten years. In 2006, I helped HarperCollins Children's Books launch National Drop Everything and Read (DEAR) Day on April 12 in celebration of her 90th birthday. (If you look carefully, you can see that I've updated the original poster for this display!)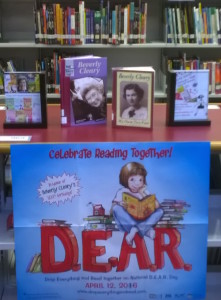 DEAR was dear to Mrs. Cleary since young readers often shared their interest and enthusiasm for this special reading activity when they wrote her letters. This helped inspire Mrs. Cleary to give the same experience to Ramona Quimby, who gets to enjoy DEAR time with the rest of her class in Ramona Quimby, Age 8.
Like the kids who wrote to Mrs. Cleary, most people know DEAR as sustained silent reading for pleasure during school time. National DEAR Day was originally designed to encourage families to make reading an important daily activity in their lives. Now that the DEAR program is ten years old, it's grown into a national month-long celebration of reading to remind folks of all ages to make reading a priority activity in their lives. DEAR, of course, can happen any time, but April 12 is the perfect opportunity to set aside all distractions, read together as a family, and pledge to make it a daily occurrence.
HarperCollins Children's Books offers some DEAR resources to help you spread the love of reading in your home, school, or community. But I'll also share some DEAR Family Reading Tips from National Drop Everything and Read Day from years past:
DEAR Family Reading Tips
Designate a special time for family reading. Whether it is the morning news, books at bedtime or stories after supper, a reading routine becomes something everyone can look forward to.
Encourage your child's reading. Praise the efforts of your soon-to-be or beginning reader. Make sure that the busy schedules of older readers include time for reading for pleasure.
Allow kids to choose books they are interested in reading or having read aloud. Be aware of your child's interests and abilities and make a variety of reading materials easily accessible.
Register for a library card. If you already have one, use it frequently! Take advantage of library programs or library book clubs.
More DEAR Family Reading Tips
Develop a reading-rich environment at home. Furnish your house with books, newspapers, and magazines. Make sure there are also comfortable places to read with good lighting.
Everyday opportunities for reading abound. From the cereal box at breakfast, to the weather report in the newspaper, to the road signs on the way to school, to the note in the lunchbox, to the recipe for dinner—words are everywhere! Take the time to point them out or ask your child to read them to you.
Ask questions when you are sharing books together. Engage your children in discussions about the books you read and help them relate to the characters or situations.  Share your own feelings and invite kids to do the same.
Remember, kids want to do what the grownups do. So if parents just drop everything and read, the kids will want to be a part of it!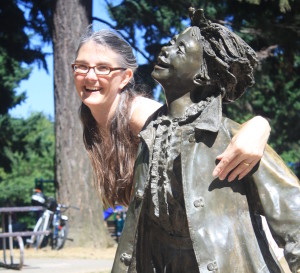 Happy Birthday dear Beverly Cleary!
I'm ready to read and celebrate!