While I've been waiting for bits of green to suddenly appear in my garden (or anywhere for that matter), I've been taking a look at some excellent books to encourage green thumbs in young readers and thinking about outdoor garden reading parties:
Spring
Planting party! Start with readings of From Seed to Plant and And Then It's Spring. Have seeds, tools, and a ready place for planting. Dig in!
Summer
The garden in summer is a perfect place for a book-nic with a read aloud of Weslandia and summer-ripe fruits and veggies.
Summer garden parties can also be more refined affairs with a reading of The Summertime Song and hats made lovely with flowers and greenery from the garden.
Fall
Host a harvest party to celebrate and share the bounty of your garden. Plan for a reading and making of Stone Soup and ask friends to bring items harvested from their own gardens to add to the pot.
Winter
Take a cue from reading The Imaginary Garden and brighten a winter day with a painting party. Create a mural, artwork to hang, or decorate stones to mark your garden path.
Whatever the season, there are books and activities to get your young readers raring to grow!
Tips to Get Growing
Reading books featuring gardens will give kids ideas about what they want their own garden should look like. Let them take the lead in planning.
Give kids their own separate space to garden, and let them plant and tend it in their own way.
Beginning gardeners should start small, planting their favorite flowers or foods.
A garden can be planted in a yard, on a balcony, porch, stoop or windowsill.
Provide kid-sized tools or improvise with old silverware. Containers for planting can come from the recycling bin, attic or garage. You can plant in almost anything if you add drainage holes and potting soil.
Some kids are going to be more interested in the digging than the planting. Others will be more fascinated with the insects and other creatures that inhabit the garden plot. And some will only be impressed when it is harvest time. Encourage their curiosity, give them responsibility and let them get dirty!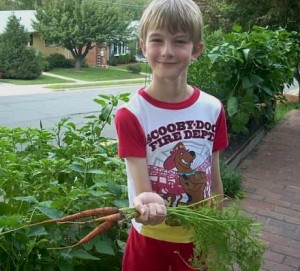 Great Gardening with Kids Resources
Dig Art! Cultivating Creativity in the Garden from Cornell Garden-Based Learning
Family Gardening for all seasons at KidsGardening
Our Green World from Start with a Book
Belle in the Garden
I've also been thinking about books that influenced and inspired my own gardening adventures.
All one hot morning, the beans were popping out of the ground. Grace discovered them and came shrieking with excitement to tell Ma. All that morning she could not be coaxed away from watching them. Up from the bare earth, bean after bean was popping, its stem uncoiling like a steel spring, and up in the sunshine the halves of the split bean still clutched to pale twin-leaves. Every time a bean popped up, Grace squealed again.
–Little Town on the Prairie by Laura Ingalls Wilder
More than any others, the books in Laura Ingalls Wilder's Little House series made me want to grow my own food. I wanted to shriek with excitement like Grace and have "large, round colored pumpkins [that] made beautiful chairs and tables."
I loved all Wilder's details about preparing the earth, planting and tending the garden, and harvesting. Just by reading, I felt at age 8, I knew what to do to plant a garden and grow my own food to survive! But it was also clear that there were no guarantees—no matter how hard you worked and tended the garden, something could still go wrong. For me, the gamble was part of the excitement.
Growing up, my yard was 109 acres, so there was space for me to dig, plant and grow my own mammoth squash and fat pods of peas. Now my garden is reduced to two 4 x 8 foot raised beds. But there's comfy bench nearby that's a perfect place to read while waiting for those tender shoots to emerge.