At the local elementary school, I'm known to some as Princess Rita Alot. Others call me the Book Fairy. While out shopping, I've been recognized as "the space alien who came to school."  I like to dress up! School book fairs and library nights have given me many opportunities to have fun with favorite themes and characters.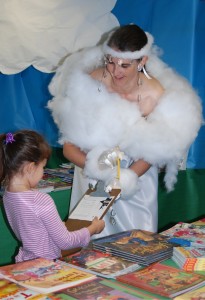 I realized though that I'd been very limited in my costume choices, neglecting the wondrous world of nonfiction. So I moved beyond the book fair to the Science Fair. In my late 19th century dress with a vial of (pretend) radium, I was Marie Curie. But the most fun was dressing as a cumulus cloud and having kids explain the water cycle to me!
Why did I wait so long to take advantage of these nonfiction opportunities? As a parent, I don't think I'm alone. When my kids were younger, we read a lot about shapes, colors, animals and then trains. Lots and lots of books about trains. Which is normal. As children get older, their interest in specialized information grows stronger. The trick I think is to remember to keep introducing potential new interests so that you don't wander away from nonfiction all together just because you've exhausted (or been exhausted by) one favorite subject.
In the work I do with Reading Rockets we've developed some interesting resources and activities for engaging in nonfiction reading.  The Reading Adventure Packs which pair a set of theme-based fiction and nonfiction books and related interactive activities are great to encourage reading at home and support the role of parents as educators. Robots and Gardening are the newest themed packs and wonderful to share during the summer.
The Reading Adventure Packs are also featured as part of Reading Rockets newest project, Start with a Book. Start with a Book is a great resource to help parents, caregivers, and volunteers find summer themes that match the curiosities and interests of young children (grades K-3) and get them actively exploring bugs, birds, planes, music, sports, superheroes, inventors, art, the ocean and more!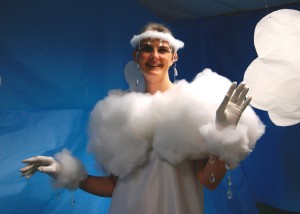 If you're unsure of where to start with nonfiction, this Quick Guide to Selecting Great Informational Books for Young Children will give you a very thorough introduction.  Start with a Book can also help you entice fiction readers to nonfiction. But if you already have nonfiction fans in your house, they might enjoy learning more about how these kinds of books are made. These video interviews with Gail Gibbons, Seymour Simon and George Ancona will give curious minds even more to think about.
So this summer make sure the library basket has nonfiction choices. And make sure those costume baskets have lab coats as well as crowns and wands!
——
Part of this post is revised from a previous article written for the First Book Blog.